COMPANY PROFILE
Positive Pioneer has been established with registration No-5158 in Yangon, Myanmar in the year of 2014 January.
Our head office located at No.106, Pansodan Road, Kyauktada Township, Yangon, Myanmar. Machine storage yard situated in Dagon Seikkan Township.
---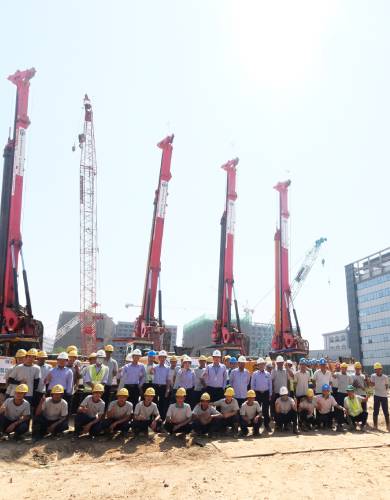 Magical World Man Power & Machines
OUR VISIONS
Positive Pioneer'aspiration to be a professional leader in foundation engineering services in Myanmar as piling specialist and licensed contractor.
OUR MISSION
Our Service will meet your satisfaction and need.
OUR POLICY
Completing and handing over the projects within target schedule
Achieve the highest achievable quality; in term of products and excellent services
Conform to client's requirement in term of understanding fully the task requirement and fulfill them accordingly
Filling up our clients' desire and to reach their satisfaction as our goal.
KEY PERSONS
---
GM (Finance)
Setting up and over view Finance Department' procedure and JD
Controlling and approve for Budget request, Payment Boucher, Petty Cash & Advance
Monitoring and checking for monthly budget cash flow statement & Bank Balance
Liaising with external audit firm, conduct yearly Financial Statement of Company
Over view income register and commercial tax and dealing with government authorities
Checking and approving for monthly payment salary for Head quarter and Project site.
Over all checking for Profit and Loss of each project, Trail Balance & BOD Register submission & Fixed Assets register
GM (Head Office)
Monitoring HRD, HRM Function, Recruiting works & conducting staff performance appraisal
Build Company image and policy by the collaboration with Developer/ Clients & Suppliers
Searching and pick up new project and Liaising with Developer/ client by leading with Business Development Department
Responsible and supervise for Tender competition, Quotation submission & Contracting matter with Engineering Department
Checking and supervising for claim, VO submission to client and Developer with Finance Dept.
Planning and coordination with project team to fix up project schedule, attending project progress meeting
Conduct as MR and leading for ISO 9001 (QMS) & 14001 (EMS) standard requirements
Project Director (Operation)
Supervise and Monitoring for daily production to reach project target schedule
Liaising with Client/ Developer and attending progress meeting for project matters
Leading project safety team and Following Safety rules, Regulation, Risk Assessment for zero accident working zone
Responsible and supervise for Quality Assurance, MOS standard and client' Design requirement
Controlling and Monitoring for Machine Maintenance, Service plan as per ISO standard
Coordination with Head office for new project searching ,presentation & handling technical matters